Checkout.com's mission is to enable businesses and their communities to thrive in the digital economy, which inspires them to deliver innovative solutions that flex to Unlimited Remit's needs, valuable insights that help Unlimited get smart about our payments' performance, and expertise Unlimited can count on as it navigates the complexities of an ever-shifting world. In the last decade, Checkout.com has grown to over 1700 employees in 19 global offices, each one of them passionate about helping thousands of businesses worldwide grow through its next-generation payments platform. Unlimited Remit provides cross-border remittances with a digital-first focus and hoping to help its customers speed up the money transfer to beneficiaries to two minutes, while keeping fees as much as ten times lower than traditional remittance services.
Searching for a partner with scale and experience  
With customer-centricity at its core,
Unlimited Remit
continually seeks new ways to improve its service. In 2021, the team recognized that its inability to accept card payments from its customers was a significant gap in its offering. At that point, Unlimited Remit only offered bank transfers as a payment option to customers. This was cumbersome for customers, with lengthy processing and payment failure impacting customer satisfaction — and ultimately forcing them to use other services.
This led the Unlimited Remit team to explore onboarding a new payments provider that could enable them to accept card payments from customers. After a thorough evaluation of the market, Unlimited Remit selected Checkout.com as its new partner.
"There are a limited number of acquiring payment service providers who could both support money remittance services and were scalable enough to meet our global ambitions," says Allen Bailochan Tuladhar, Founder, and CEO, Unlimited Remit. "Checkout.com has the global scale and expertise to meet our requirements.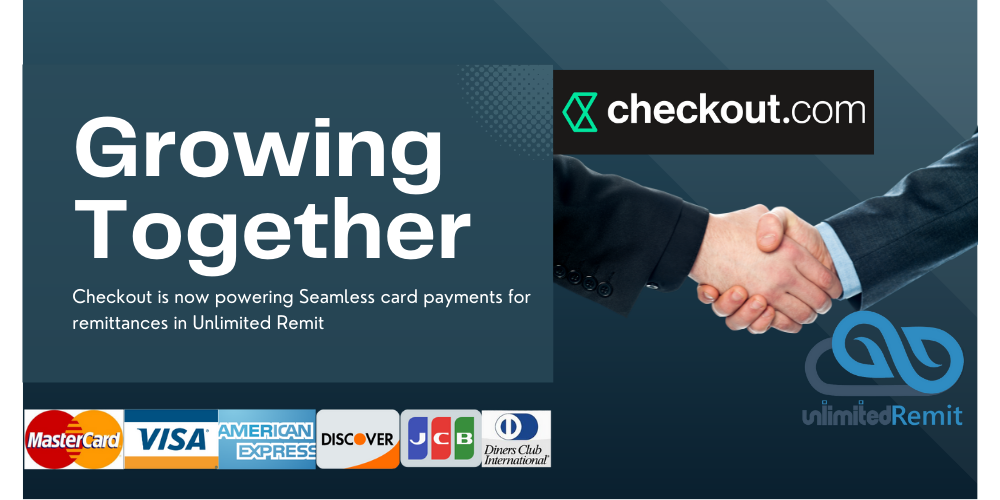 As a result of this partnership, Unlimited Remit customers can now make payments from a variety of cards like VISA, Mastercard, American Express, JCB, Discover, Visa Electron, Diner's Club International, receiving near-instant fund acceptance times resulting in a vastly improved user experience.

Expert support from local teams  
The support proved valuable from day one, with Unlimited Remit easily integrating Checkout.com into their technology stack. Checkout.com provided a dedicated onboarding team to guide them throughout the entire process and were on hand to answer technical queries.
Unlimited Remit was also assigned a dedicated customer success manager (CSM)
. They've embedded themselves into the Unlimited Remits business, providing highly personalized and timely support at all times. This includes ensuring Unlimited Remit's payments processes are optimized, compliant with any upcoming regulatory changes and ready to support whatever move the business makes.
For example, when Unlimited Remit looked to improve security and reduce fraud, the Checkout.com team recommended leveraging 3D Secure protocols. Anticipating a potential rise in payment failure post-implementation, Checkout.com supported to minimize the impact and ensure any issues were solved quickly.
Expanding internationally
Unlimited Remit has big ambitions. And its sights are firmly set on expanding its presence in North America and making remittance quicker and cheaper than ever before. Checkout.com is the partner they know will help them achieve this goal. Work is already underway to extend its acquiring services and provide customers with an instant funds-in experience.
"When we enter a new market, the value of the Checkout.com team shines in terms of their expertise. They can recommend the optimal setup path based on considerations like cost structures, dealing with chargebacks, and so on," concludes Allen.